Medtech Rising 2022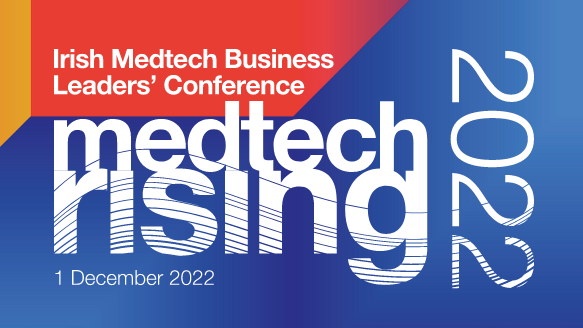 Medtech Rising 2022– Irelands Business Leader's Conference and Medtech Awards Ceremony
 Medtech Rising 2022 will bring together world leading business leaders and international experts on many pertinent topics including: Innovation and the power of partnerships, building R&D capacity, digital health, realising the potential of the ecosystem, international funding landscape, sustainability, resilient supply chains the future of work.
Delegates will enjoy unmissable networking opportunities to connect with many medtech professionals in the exhibition area. The conference will include parallel sessions providing practical case studies and experiences on key technical topics. A Black Tie Gala Dinner and Medtech Awards Ceremony where the best of Ireland's medtech sector will be commended will provide a fitting end to a truly engaging event,
This global conference for Ireland provides unrivalled access to experts and industry trends making it unmissable for senior medtech professionals.
This year running alongside Medtech Rising we will have Medtech Connect. A showcase providing Medtech SMEs with a platform to raise awareness and present their innovative technology solutions and business models to potential business partners, large MNCs or investors.
It is a great opportunity for Irish SMEs to get noticed for future collaborations or investment. Companies shortlisted to present will receive a complimentary ticket to attend Medtech Rising Conference & Gala awards. To enter and for more information click HERE
RCSI: Upcoming Seminars in GCP and Medical Device Research

INTRODUCTION TO CLINICAL RESEARCH & GOOD CLINICAL PRACTICE RCSI Education and Research Centre, Beaumont Hospital Thursday 14th September, 2023, Tutorial Room 1,  9.00 [...]