'Grand Rounds' at CUH – Presented by the CRF-UCC's SDAU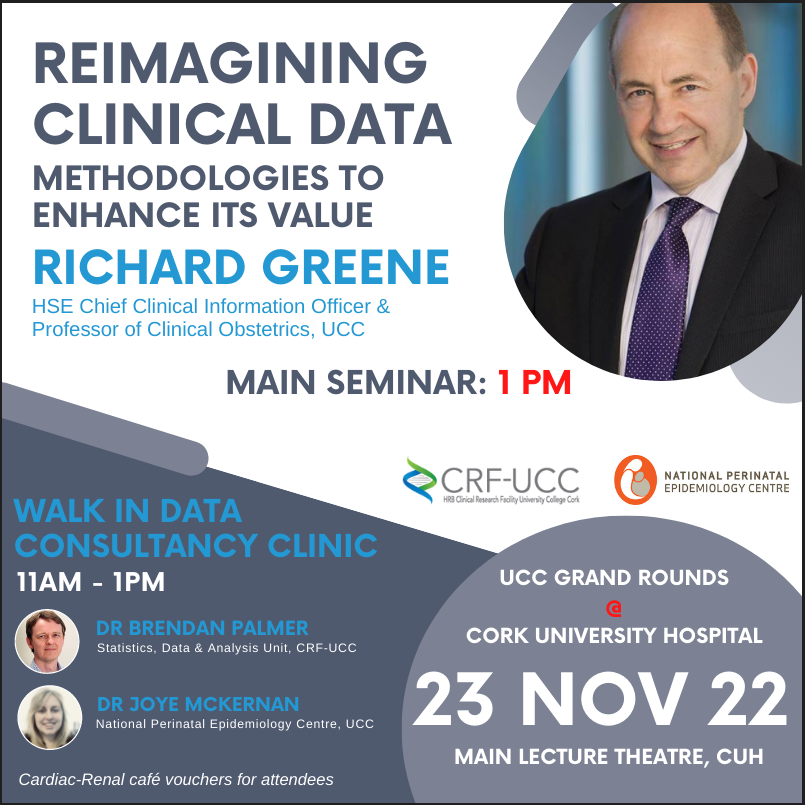 GDPR, DPIA, HRR and HRCRC are acronyms that study teams engaged in patient-focused research should immediately recognise. Clarity surrounding the capture, processing, storage and access to clinical research data is an absolute necessity for every PI working in this environment.
The Statistics, Data & Analysis unit of the CRF-UCC offers a suite of services that are designed to support study teams approach data collection with confidence. Our supports include;
Pre-grant application supports
Data management planning
Electronic Data Capture
FAIR data stewardship
Statistical analysis
Reproducible reporting
In partnership with the National Perinatal Epidemiology Centre, we are holding a walk-in data consultancy clinic prior to Grand Rounds on Wednesday, 23rd November. The purpose of the clinic is to provide guidance and information with respect to approaching data collection in patient-focused research and to highlight the services available to researchers based in UCC and the wider South/Southwest Hospital Group.
If you would like to register your interest in attending the clinic, please follow this Outlook booking link and complete the information required. On the booking form you have the option to raise questions you would like to be answered on the day. Based on this initial consultation, there will be an opportunity to arrange follow up discussions with members of the SDAU.
The clinic will precede the UCC Grand Rounds @ CUH seminar where Professor Richard Greene will provide insights on the collection, access and use of clinical data from an Irish healthcare perspective.
UCC Cancer Trials Group – Public & Patient Event – 25th Nov

REGISTER HERE SEE MORE NEWS SEE MORE NEWS [...]